Important Note: The tutorials you will find on this blog may become outdated with new versions of the program. We have now added a series of built-in tutorials in the application which are accessible from the Help menu.
You should run these to discover the Hub.
The newest update of the Hub contains some exciting new features. This tutorial will explain these new functionalities but for a more detailed explanation of how to use the Hub's basic features please, refer to the existing list of tutorials.
Let's get started….
Open the following Wikipedia page which displays a list of all the Nobel Laureates in Physics:
http://en.wikipedia.org/wiki/List_of_Nobel_Laureates_in_Physics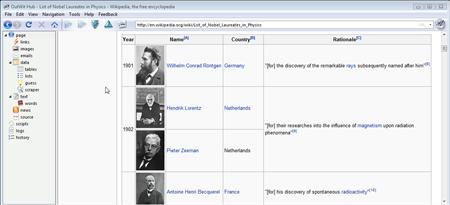 As you can see this page contains a table of the Nobel Laureates' name, country, year, and rationale. We need selected information from this page and can use OutWit Hub to grab the relevant data and export it into a spreadsheet.
To begin extracting data, open the Table view.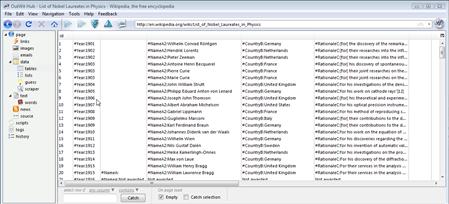 Below the results, there is a selection panel that allows you to enter specific criteria.
The different types of cheddar are now highlighted and we can use the button to move the selection into our Catch or right-click to 'Export Selection As….'
Finally, the last new feature we'll cover today is 'Execute and Catch'.
You will find this feature interesting for links, images and emails:
As you browse, if you select 'Execute and Catch' in the 'Tools' menu and then 'Images', you will catch all the photos on this page without having to leave the Page view.
This feature is helpful when you come across useful information that you'd like to keep while browsing through many pages.
This concludes the New Features tutorial. As always we welcome any suggestions, comments or feedback. We couldn't do this without you.
by jcc
Tags: Execute and Catch, Select Different, Select Identical, Select Inversion, Select Similar